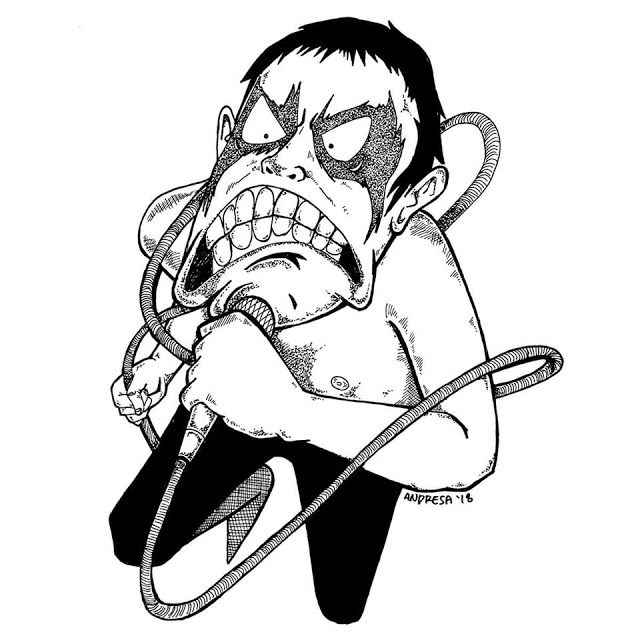 No Stranger to Just Some Punk Songs, Grim Deeds has an extensive back catalogue of quirky pop punk delights
https://grimdeeds.bandcamp.com/
and he interviews some of his
favourite songwriters on his blog https://grimdeeds.blogspot.com/2018/09/jeff-gammill.html
He's also previously chosen his Top 10 songs : https://justsomepunksongs.blogspot.com/2016/03/top-10-songs-chosen-by-grim-deeds.html and allowed me to conduct one of my rare interviews https://justsomepunksongs.blogspot.com/2017/06/interview-with-grim-deeds.html
He's a very accomodating guy and very passionate about music so when I heard him chatting on The Dummy Room (https://thedummyroom.podbean.com/e/the-dummy-room-19-hangin-with-mr-deeds/) enthusing about his love of Japanese pop punk bands I had to pause the interview and fire off a message asking him to put together a Top 10 of his favourites. I was confident of a positive response but surprised by how quickly it came. Within seconds He'd replied "Sweet! I'd love to do it. I'll work on it today." And sure enough he was as good as his word so without further ado here's 10 top tunes as recommended by Grim Deeds...

Konnichiwa and HAILS! I spend a lot of my time wishing I was back in Japan. The Japanese scene is exploding with great bands right now. Their enthusiasm and sincerity is only matched by their songwriting skills and tight musicianship. Here are some of the best and brightest going right now!



10. The Ham Ham Hamburgers - Popball Pure pop punk fun with no pretension or gimmicks. Well, they do like to eat hamburgers!
9. The Plum Crazys - Hey Little Coupe Japan's premiere Ramonescore band. Danny Plum Crazys is the real deal! Japanese Dee Dee Ramone.
8. Felix! (The Band) - Pop Punk Records Super tight and catchy pop punk with an original flavor. These guys rule!
7. The Hathaways - I'm The One Playing Dragon Quest Keita, Daisuke, and Hiro are the main guys now and their songwriting is evolving into something even more current and exciting - but they will always know how to write a satisfying pop punk tune! I miss you guys!
6. The Nerdy Jugheads - Anything Just For You This band is incredible live and their records are all super tight and huge sounding. I consider them to be the TBR of the East! Yoshi is the man and all the guys play super tight and fast - fastest downstrokes ever?
5. STUPID PLOTS - What Did Change? Shogo is an original punk rocker! His raw, energetic, melodic songs are about as sincere and direct as it gets. His DIY attitude and community spirit is awesome. His daughter Sakura is amazingly talented songwriter as well!
4. The CCS - I'm Gonna Fall Yusuke Ogane has the soul of power pop! These guys really know how to craft excellent songs. They are top tier Japanese punk/power pop.
3. The Hum Hums - Battle Line Incredible talent here, and it really shows! The Hum Hums have the best harmonies, the catchiest songs, and the most timeless style. Incredible to see live, and always a satisfying listen.
2. Pelotan - Abracadabra This is pure pop perfection, with so many great influences incorporated into a very professional and tight package. The songs are almost too catchy! A great band with a truly impressive, time-tested sound.
1. Shonen Knife - Jump Into The New World They may not be as big in their home country of Japan, but Shonen Knife still maintains a huge international following after over 30 years of creating catchy rock music and touring the globe. They are truly inspirational! Naoko is one of my favorite songwriters of all time - a true original.