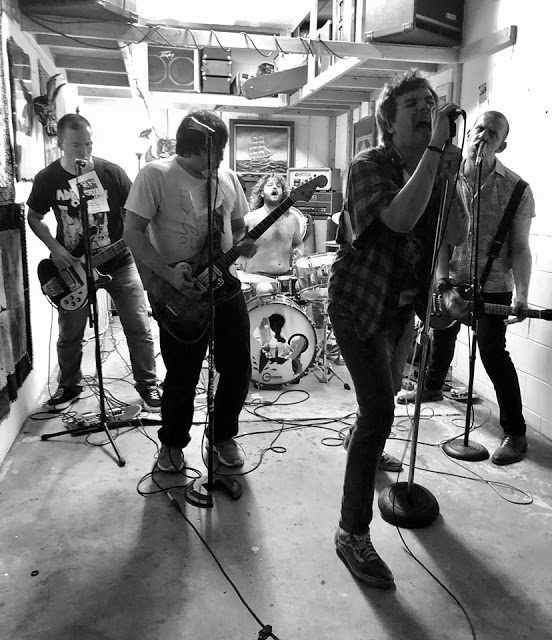 (photo : @andyisrad)
One band that never disappoint are New Jersey hardcore surf punks Night Birds. It's been a while since their last release but last week
they brought out a new mini album on Fat Wreck Chords and unsurprisingly it's excellent. It's titled Roll Credits and if there's any of you that haven't already heard it, you can check it out here :
">
As well as Joe, Brian, PJ and Darick, the sound on Roll Credits has been fleshed out by the return to the fold of guitarist Mike Hunchback. The first time they've been a 5 piece so no doubt they'll be sounding great on their current US tour. You can check out dates here : https://nightbirds.oknoway.com/
No doubt there'll be many better than I can manage reviews already posted online so I'll leave the dissection to the proper writers and just select a killer song to share with you. Featuring guest appearances by Kate Eldridge (Big Eyes) on backing vocals and Marisa Bergquist on keys, this is Radium Girls...
They told me I
Was a Radium Girl
They had a word for what they did
Like somehow that made up for it
There was a brand new kind of tax
In every one of those paychecks
Radiated jaw and neck
When you don't matter, you don't get a mask
Just another one
Of the Radium Girls
Had their way and they're done
With the Radium Girls
Just another one
They told me I
Had a glowing smile
But with each and every week
They had us down on our knees
Lips and nails bright in the dark
The hands of time leave quite a mark
But the division is quite stark
Between unskilled bait and front office shark
Lips and nails bathed in undark
The hands of time leave quite a mark
Pass our graves out on a lark
You'll see a Geiger counter spark