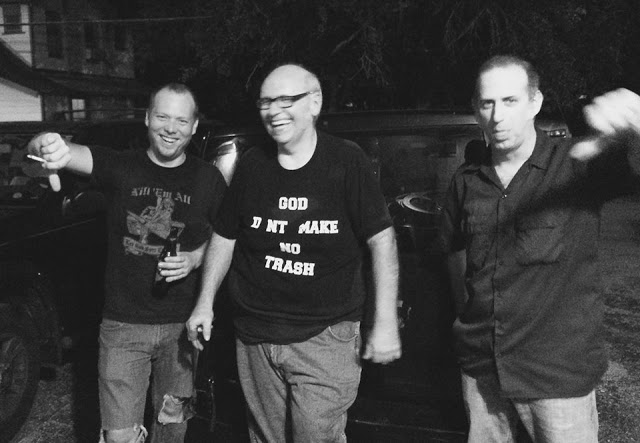 Another Slovenly Recordings release today, this time from "the undisputed kings of 21st Centuary Budget Rock" Gino And The Goons. It's a new ep titled She
Was Crushed, it's jointly released with Black Gladiator records and it's probably of my favourite by them so far. You can get it on 7" vinyl (purple or black) as well as digitally :
">
It's hard to believe it's been nearly 4 years since I last featured them on here (https://justsomepunksongs.blogspot.com/2014/11/gino-and-goons-gotthe-skinny.html) but since then they've released numerous cool as fuck 7"s as well as the Rip It Up album. The She Was Crushed ep came out a couple of days ago and features 4 great tracks. I played Early Retirement on the Just Some Punk Songs show a few weeks ago and later today I'll play the title track (details of what will be a great show here : https://www.facebook.com/events/801987739971991/). On the ep are Gino Bambino (drums/guitars/backing vocals), T Bone Jones (bass/vocals) and Logan Barnett (drums on Got Messed Up). I don't know who plays sax (it sounds like a sax to my untrained ears) but it's a definite highlight of the title track.
She was crushed, cool darkly humerous lyrics and that very cool sax. All Messed Up, frantic with awesome guitar work. Wrong Side Of A Cigarette, catchy Ramones influenced and anthemic. Early Retirement, a banging call to be set free from the daily grind of the 9-5. Every track is a definite highlight so make sure you check them all out.
This is She Was Crushed...