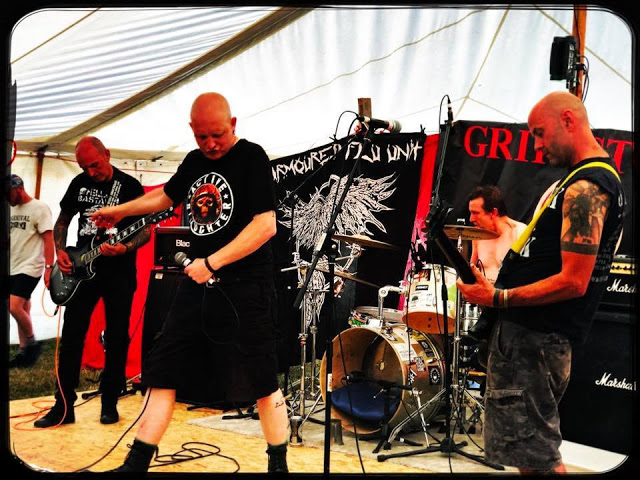 Armoured Flu Unit and Grow Your Own Records have teamed up to bring us one of 2019's most powerful releases. Almost a couple of years on
from their classic This Machine Kills Fascists (https://justsomepunksongs.blogspot.com/2017/12/armoured-flu-unit-this-machine-kills.html), AFU are as uncompromisingly brilliant as ever. The new record is titled Crusading Nations and is available on 10" vinyl featuring 8 banging tracks, ltd 300 press in Clear Vinyl with blue and red streaks and a hand built gatefold cover. The first 100 "come with stuff." It's also available on cd and digital download and you can find it here :
">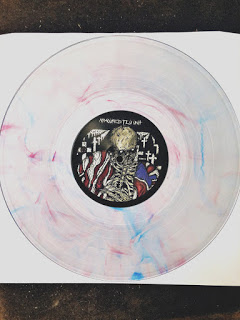 The band are a "Bin kicking Anarchoi thug rock" 4 piece from Durrington and Southampton boasting a current line up of Nath Haywire (vocals), Danny Burch (bass/backing vocals), Iain Influx (guitar/backing vocals) and Saul Tarner (drums). Saul replaces Andy Morris who played drums on this release. You can get more info here : https://www.facebook.com/ArmouredFluUnitOfficial/
Crusading Nations takes no prisoners. It pummels the senses with glorious bass driven noise whilst getting you to engage your brain on topics such as police infiltration, a treason law used by the Indonesian authorities in their genocide of the indigenous inhabitants of West Papua, the indifference of the general public and drummer Andy Morris' account of recovering in hospital after a heart attack. My favourite song is the closing track, Grenfell, which despite being more considered is the most heartbreaking and anger inducing one on offer. Today though you're getting the song with the video. It's called No Compromise and this is what the band had to say about it....
Armoured Flu Unit would like to take the opportunity to dedicate the following track "No Compromise" to those who have protested the "Dakota Access Pipeline" and the Anti-fracking protestors "Frack-Free Lancashire" at the gates of Preston New Road drill site to show Cuadrilla they have no social licence to operate.
The Dakota Acc
ess Pipeline protests began in early 2016 in reaction to the approved construction of Energy Transfer Partners' Dakota Access Pipeline in the northern United States. The pipeline was projected to run from the Bakken oil fields in western North Dakota to southern Illinois, crossing beneath the Missouri and Mississippi Rivers, as well as under part of Lake Oahe near the Standing Rock Indian Reservation. Many in the Standing Rock tribe considered the pipeline and its intended crossing of the Missouri River to constitute a threat to the region's clean water and to ancient burial grounds.
In April 2016 two events spurred the mass protests. First, a young indigenous girl named 'Tokata Iron Eyes' and her teenage friends organized "ReZpect Our Water" as a social media-based campaign to stop the pipeline. Second, Standing Rock Sioux elder 'LaDonna Brave Bull Allard' established a camp as a center for cultural preservation, spiritual resistance to the pipeline, and for the defense of native sovereignty. Showing indigenous people are still being oppressed to this day.
The Preston New Road site at Little Plumpton has been the scene of repeated protests from environmentalists who object to hydraulic fracturing - in which liquid is pumped at high pressure deep underground to fracture rock and release gas.
Monday 14 Oct 2019 c
elebrates "Indigenous Peoples' Day". South Dakota officially celebrates "Native American Day" and other states have an "American Indian Day" or "American Indian Heritage Day". A holiday that celebrates the history and contributions of the indigenous people of North America and recognition of the people who were oppressed.