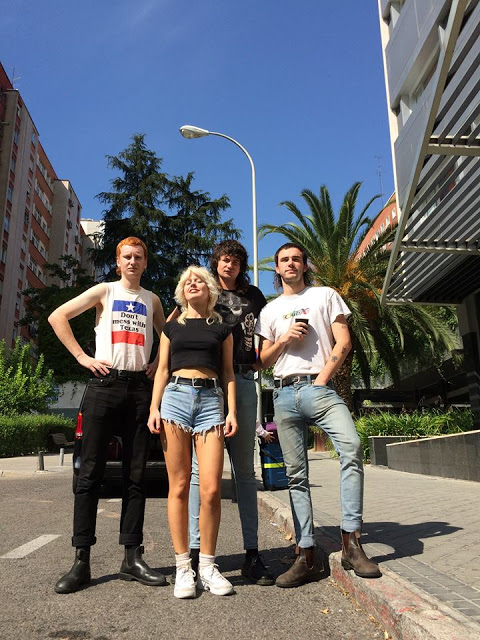 A song today that was released as a video 6 months ago, has gone down a storm whenever any of the Global Punk Network shows has
played it and which came out a couple of weeks ago as the flip side of the Some Mutts (Can't Be Muzzled) 7". It is of course Cup Of Destiny by Amyl And The Sniffers and it's one of this year's best songs. So why the delay in getting it on here? To be honest, it's the same reason Some Mutts didn't get posted, I was asked if I was going to feature it but thought what's the point. You've all heard it, better writers than me have thrown multiple superlatives at it. I'm better off trying to post stuff you might not have heard yet. I'd already written about the band when posting 70's Street Munchies and front woman Amy had contributed a list of her Top 10 favourite songs (https://justsomepunksongs.blogspot.com/2018/03/top-10-songs-chosen-by-amy-taylor-amyl.html) plus I'm sure I'd been told they were working on a new album. Better to wait for a song that hadn't been posted everywhere?
But then their fellow Aussie, Baldy (Adam Mishkin), sent me a few paragraphs earlier today so that's what you're getting. If you are one of the few who's missed the new single, you can check it out here :
">
Is there an album on it's way? Things seem to have gone quiet on that front, the band have been busy touring the globe recently, fingers crossed they're finding time to record one. Anyway, enough of me and over to Baldy....

Founded in the city of Melbourne - Australia in 2016 in a shared house. Friends Amy Taylor (vocals), Bryce Wilson (drums) and Declan Martens (guitar) and a bit later Calum Newton formed the band and wrote the songs together. The name itself a tongue in cheek take on Amy's name and the fact that at least a couple of the boys were fans of amyl nitrate from time to time. Great name for a band influenced by punk if there ever was. There have been a bunch of different influences noted by other reviews, so I will go with the ones I can definitely hear. Definitely a large portion of Aussie pub rock with 70s style Aussie punk rock in the mix. Amy definitely plays with a hairstyle, and sometimes dress sense that harks back to the days of the "Melbourne Sharpie" look. From a 60's - 70's hybrid fashion of early mods - rockers and skinheads that was a sub culture on its own in Australia at the time. The hairstyle, very much like a feather cut. But the attitude, rest of the look and the music very much like Aussie pub rock and roll and retro 'Sharpie rock and roll" For example in the vein of Coloured Balls, and maybe even a little of Buster Brown? . Though heavily influenced by early Australian rock n roll. They still manage to slip a couple of musical spanners in the works, as in some newer influences you might not be able to immediately put your finger on. Not that it really matters, as the general flow and vibe of the band is good ol' down and dirty, beer stained and letting loose rock n roll. That anyone from a music expert to a casual listener can get into.
As far as Aussie punk goes, a new generation of Aussie punk, I think this lot really has what it takes to go the distance and provide something new with bite to the Australian rock n roll/punk rock hall of fame that has been LONG overdue.. Vibrancy! LIFE! Hard rockin kids that don't take themselves too seriously and aren't in love with their own ego's.. From what I can see, and read so far, seems to be the case..Fucking refreshing! Again they bring VIBRANCY and life to otherwise what might seem to be jaded and stale Australian underground scene in places.. I hope they keep on rockin and come to Perth one day, I would be there with bells on.For a new band, I give em 5 stars. And two thumbs up.

Cup Of Destiny...

Cup of Destiny
I drank from the right glass
I'm taking the right path
But it is testing me
I'll have the last laugh
Down at the work task
They'll get the best of me

Cup of destiny

Well you never really know it till it hits ya
You see it in your face an old school picture
You pour yourself one every night
It doesn't mean that your wrong or right
Look at the bottle. Look at the glass.
There is your future.There is your past.
It all makes sense when you get some
It doesn't matter if you're old and all done