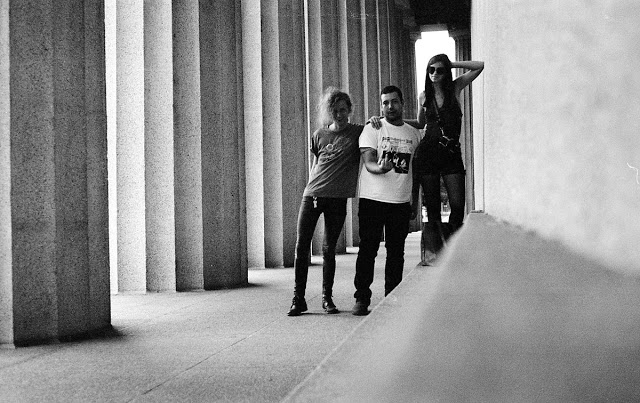 BOOM! Pressing play on the new, Self Titled, album by New Orleans' Trampoline Team is akin to lighting the blue touch paper and causing an explosion
of gloriously boisterous noise. The songs on the album are all fuck you, female fronted rock n roll buzzbombs which combine to produce an adrenaline rush of the highest order. God damn I'm impressed.
It's only a couple of months since the band featured on here with a track from the equally as frenetic Kill You ep https://justsomepunksongs.blogspot.com/2019/06/trampoline-team-kill-you-on-streetcar.html and the album keeps up that mad dash to the finish line pace. There's not been much in the way of updates posted recently on the band's Facebook page so I've not much new info to share to pad out this write up but I did notice the mega prolific DD Owen saying he'd played drums on the album and I also came across a whole bunch of upcoming European tour dates which I might as well share :
Sun 8/11 Aarhus Denmark
Mon 8/12 Copenhagen @ Mayhem
Tue 8/13 Gothenburg
Wed 8/14 Stockholm @ Vielle Montagne
Thu 8/15 Malmo @ Massingshornet
Fri 8/16 Berlin @ Bei Ruth
Sat 8/17 Leipzig Germany
Sun 8/18 Prague Czech Republic
Mon 8/19 Vienna Austria
Tue 8/20 Zagreb Croatia @ Klub Mocvara
Wed 8/21 Venice Italy
Thu 8/22 Bergamo Italy Fri 8/23 Bologna Italy @ Freak Show
Sat 8/24 Teramo Italy
Sun 8/25 Naples Italy
Mon 8/26 Mantova Italy
Tue 8/27 Kreuzlingen Switzerland @ Horst
Wed 8/28 Heidelberg Germany @ Schmitthelm
Thu 8/29 Hamburg Germany @ Hafenklang
Fri 8/30 Hamburg Germany Sat 8/31 Hamburg Germany
Back to the album, vinyl lovers need to check Hozac Records, https://hozacrecords.com/ and for digital get on Bandcamp :
">
This song's called Patty Hearst...