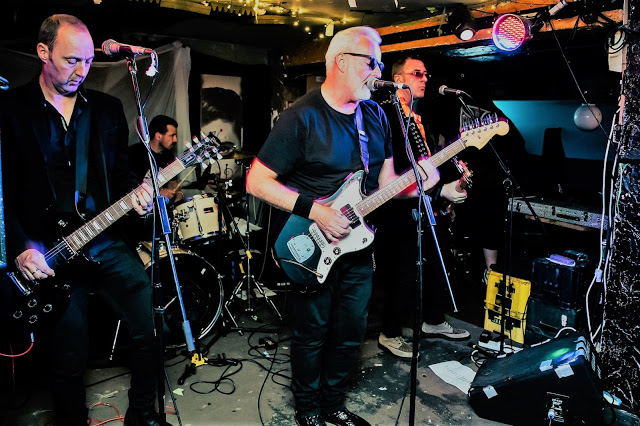 (photo : Deborah Mullen)
So yesterday at work I was revisiting Pacer's excellent 2012 album Making Plans thinking how wonderful it still sounds (
">
) and thinking aloud,
I posed the question is it the best British punk release from the last decade. Obviously with taste being subjective most people would say no and offer up their own choice, one of those people being my old school mate Simmo who nominated The Media Whores' Decade Of Defiance compilation as his choice "one of the best bands I have ever known...they deserve a higher level... all the major bands they support at gigs... and great people... they deserve to be on your blog."
I'm sure they deserve more than that mate but I'll happily write a couple of paragraphs. Hailing from central Scotland they formed in August 2008 and have been sticking it to the establishment with their working class outsider rock ever since. The line up features Craig Anderson (lead vocals/guitar), Doogie Mackie (bass/backing vocals), Chris McArthur (guitar/backing vocals) and Andy Russell (drums/percussion). Bigger and better review sites than this have heaped copious amounts of praise on them doling out favourable comparisons with genre luminaries such as SLF, The Damned, Killing Joke and The Rezillos. Personally I'd say that whilst influenced by a wide range of golden era punksters and rockers they don't really sound too much like any of them, they've managed to come up with their own varied sound. So on the album's lengthy 18 track look back at their catalogue you'll find plenty to enjoy, there's even 3 new tracks from their upcoming 4th album which is pencilled in for later this year (you can review that one for me Simmo!).
You can get more info here : https://www.facebook.com/MediaWhband/
Originally on the 2016 Mercury Music Award nominated album Dangerous Minds, this is an upbeat rocker which rather snappily rhymes "is this an earthquake beneath my feet" with "in the corridors of power I smell deceit." It's a protest song about hydraulic fracturing, the controversial method of getting gas or oil from beneath the ground. It's called Frack Off...