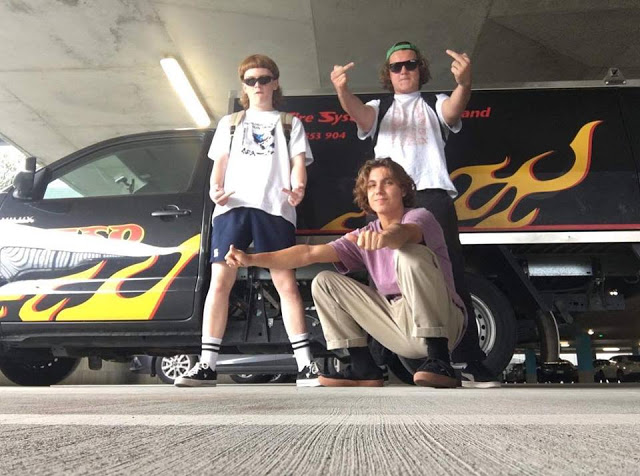 One of the most popular bands I've featured on here (and played on the show) are Sunshine Coast shed rockers The Chats. Like many punk bands
they write songs about stuff that's important to them. Unlike most other bands though, rather than writing about politics, gender issues or the environment, Josh Price, Eamon Sandwith and Matt Boggis are more concerned with the stuff that affects their daily lives. Like getting stranded with no bus money, their mum stealing their stuff or getting bothered whilst on a smoke break. As you'll hear on their new single (their first since last summer's Do What I Want) they're still sweating the big stuff.
I'm assuming you're all familiar with The Chats by now but just in case here's a couple of links :
https://www.facebook.com/thechatsband/
https://thechatslovebeer.bandcamp.com/
The new single, available on vinyl from Bargain Bin records, doesn't disappoint. It's another slacker anthem that will leave everyone hoping a debut album is imminent. There's only one thing they crave this time around and it ain't world peace or an end to discrimination. They're simple folk, they just want a nice greasy meal. This is Pub Feed...