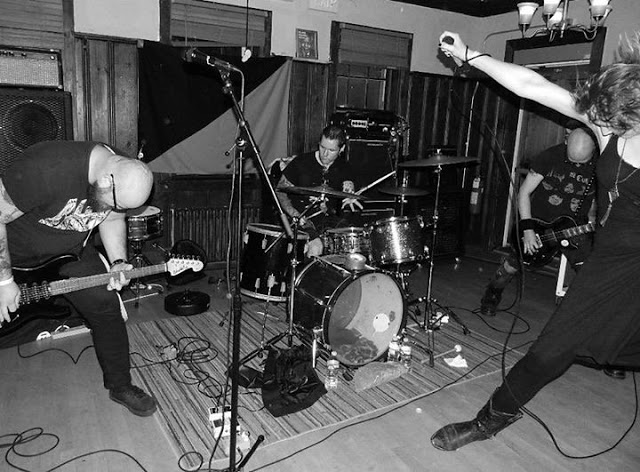 Pandemix are a band that have had several plays on the Just Some Punk Songs show but don't appear to have been covered on here yet.
That's going to change today.
They're a hardcore punk band from Boston, Massachusetts who announced themselves in 2016 with the Pathological Culture Demo. The following year they released debut album Scale Models Of Atrocities (opening track Exit Strategy was a particular favourite). 2018's Rank and File single was another winner so their new album, In Condemnation, was always going to be highly anticipated (especially as the track that featured on the Pulsebeat compilation was so damn good (https://pulsebeat.bandcamp.com/).
The album came out last month on Boss Tunage and Dirt Cult Records and didn't let anyone down. 10 tracks of deliciously dark, anarcho influenced, hardcore it's available on vinyl and digitally here :
http://bosstuneage.bigcartel.com/product/pandemix-in-condemnation-lp
https://dirtcultrecords.wordpress.com/2019/03/02/pandemix-in-condemnation-lp/

">
The line up of the band is Shannon Thompson (vocals), Tommy Draize (bass), Matthew Woellert (guitar) and Ryan Berry (drums). Whilst the music is feral, the lyrics are considered and well written. The track I'm featuring today is Downward Trend...
It's a downward trend, decay that never ends
Jam the signal then complain your messages won't send
Downward trend, some breaks never mend
What's it supposed to mean when you call somebody your friend

Living by your wits while you're drinking them away

Run your mouth, spiral and flame out
As your lacquered sneer's so quickly fading to a pout
No remorse, fucking a dead horse
Diagnosed the sickness after it had run its course

I can't see the point anymore.
In love with your uneven score
Wondering just what to do now
And where have all your friends went

Living by your wits while you're drinking them away
Made your own problems and some are here to stay

Lines were crossed, can't get back what was lost
Bought the fantasy without examining the cost
It's a sharp decline, prisoner in your mind
Looking worse for wear but you swear that you're feeling fine