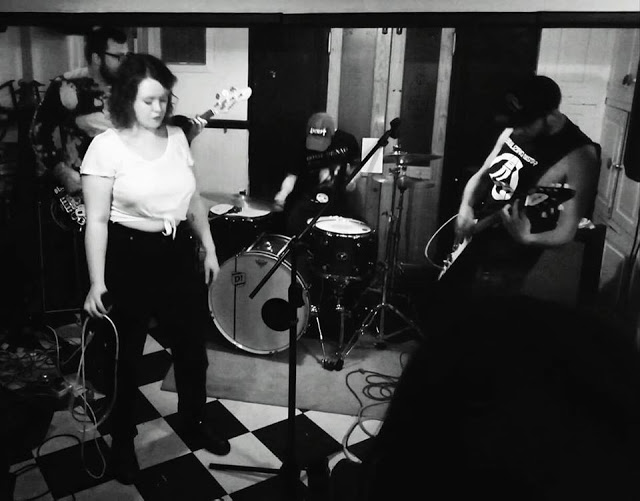 Unhappy degenerates. Puerile d-beat hardcore... So goes the description on Facebook. The band are called Misery Guts and they're the latest addition to the Richter Scale
Records' roster. In keeping with the majority of Richter Scale's releases (https://richterscaleoxford.bandcamp.com/music), they're pretty damn ferocious.
The band are from Oxford and feature Evie Sherry-Starmer, Oli Hewer, Joe Briggs and Joe Turner. Oli may be familier to some of you as a member of several other Oxford bands including Guilt Police https://guiltpolice.bandcamp.com/ and Basic Dicks https://basicdicks.bandcamp.com/ whilst Joe Briggs is in Scrap Brain https://scrapbrainhc.bandcamp.com/ and Joe Turner is in Worry https://worry.bandcamp.com/. This is vocalist Evie's first band.
They've just released their debut ep, it's titled Oxford 'Ardcore and it's available as a name your price download here :
">
. A cassette will be out soon on Richter Scale. The band rattle through 5 songs in around 8 minutes, the music is brutal, the lyrics are sparse and spat out dripping with venom. This is the opening track, translating from German as Power Of Women, it's titled Weibermacht...
YOU TOLD OUR FRIENDS I KISSED YOU FIRST
SO I WOULDN'T SAY HOW MUCH IT HURT
TOLD OUR FRIENDS I KISSED YOU FIRST
SO I WOULDN'T TELL
TAKE YOUR FUCKING HANDS OFF ME
DON'T TOUCH ME IF YOU HAVEN'T ASKED
TAKE YOUR FUCKING HANDS OFF ME