Hopefully you'll agree with me when I say that I think there's been some great songs on here this week and hopefully you'll agree that the
one you're getting today ain't half bad either. It's by a band that are making what I think is their 4th appearance and they always prove popular, they're called Judy And The Jerks, they hail from Hattiesburg, Mississippi, and I've previously called them whacked out weirdos and an off kilter buzzbomb of garage influenced punk fun.
The reason for their reappearance is the release of a new 5 track ep titled Bone Spur, it's available on cassette or digitally on Bandcamp as a name your price download :
">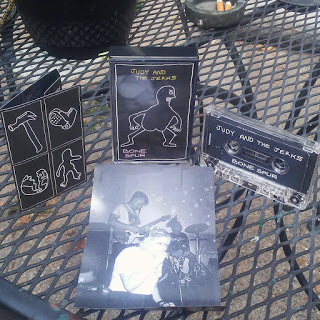 As well as the ep, there's also an East Coast Fall tour to tell you about. If you're from that neck of the woods then you can catch them here :
Sept 30 - Asheville,NC - Stable Boy Handjob, Kadre @ Lazy Diamond
Oct 1 - Washington D.C. - Holographic, Holy Child @ Slash Run
Oct 2 - Baltimore, MD - Glue Traps, Cold Feet @ Holy Frijoles
Oct 3 - NYC, NY - Not Amused, PosterBoy2000 @ Brooklyn Bazaar
Oct 4 - Philadelphia, PA - UV-TV, Mack Enemy, fracture @ Cousin Danny's
Oct 5 - Richmond, VA - Cement Shoes, Kuni @ VSC
Oct 6 - Birmingham, AL - Punk Rock Flea Market

On this track, vocalist Julie Gore sings about being tired of living in the south and wanting to move to California to start a band (and get on the cover of Maximum RocknRoll... just like Black Flag). Meanwhile the Jerks, (Austin Griffith, Hampton Martin and Sarah Krock) strum and bang away with energy and invention. It's called California...