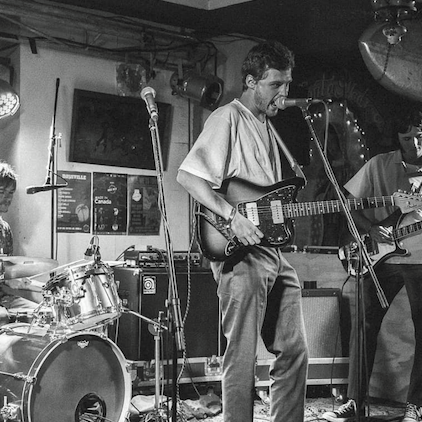 (photo : Alex Macgregor)
I'm always interested in seeing which band gets the best reaction on the Just Some Punk Songs show from the listeners in the
chatroom. I think the band with the wow factor on this week's show were this lot....
Idiot Box are Chet (bass), Daneo (drums/vocals) and Byron (guitar/vocals). On yesterday's update I advised you to cast your gaze towards Australia if you liked balls out rock n roll and this Sydney 3 piece are helping prove my point. If you've not yet come across them then check out their latest release. It's called Cop It Sweet and it came out on 1st January on top Melbourne label Pissfart Records. It's available on cassette and digitally :
">
For more info check here : https://www.facebook.com/IdiotBoxSyd/
I'm never sure if a release containing 7 tracks is an ep or a mini album but either way Cop It Sweet is around 20 minutes of raucous, snotty punk. I played I Can't Do Anything on the show, today the spotlight switches to Baby Boomer....