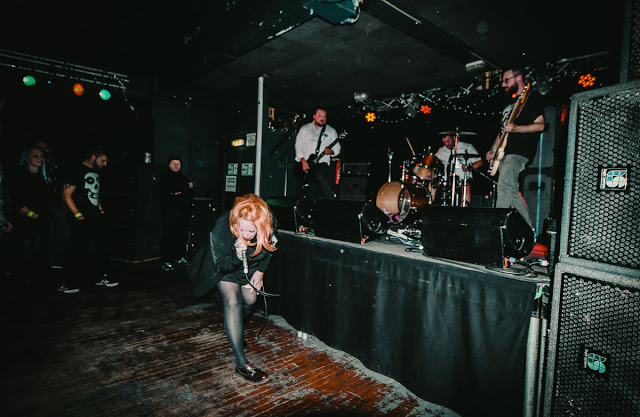 F. Emasculata is the 22nd episode of the 2nd series of The X Files. A gruesome episode in which the titular insect carries a deadly parasite
that's responsible for some gory deaths. It questions the public's right to know the truth about an outbreak of a deadly virus. It's a good episode. It's also the name of a hardcore punk band from Cornwall who I think it's fair to say have seen an X Files episode or two.
Featuring members of Rash Decision and Swansong, the band lines up with the unlikely monikered Skinner (drums), Samantha (vocals), The Smoking Man (bass) and Krycek (guitar) (In real life they probably have names like Jimmers, Nat, Craig and Dave). Rather than write songs about girls or smashing the state they concentrate more on fictional government cover ups and alien abductions. If you know Eugene Victor Tooms can squeeze his body through narrow gaps and is partial to eating human livers or that The Great Mutato was a genetic creation who ended up on the dancefloor with Cher as she sings Walking In Memphis then this is the band for you.
They recently released a new 6 track ep called Take Me Home. The title is a reference to the episode of the X Files in which murderous, inbred brothers live on a remote farmhouse. It's available via a bunch of labels on cd and is also a name your price download on Bandcamp (as added value they've included remixed and remastered earlier releases IAXFE and The Truth). Check it out : https://f-emasculata.bandcamp.com/
For more info : https://www.facebook.com/F.Emasculata/
This song asks the question, What's In The Jar....