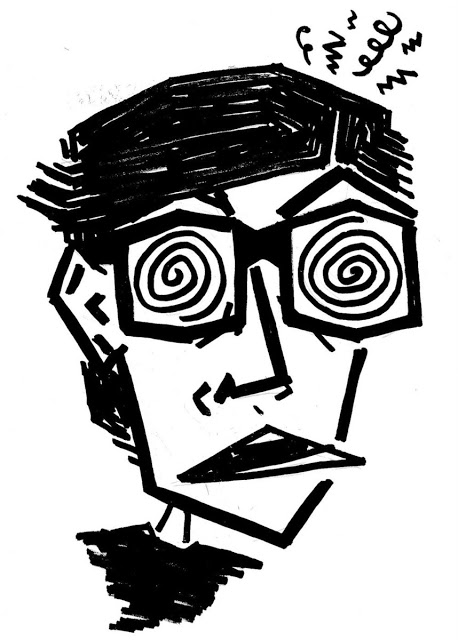 Erik Nervous has featured on the Just Some Punk Songs show several times but a quick search appears to show I've not had any of his
songs on here yet. A shameful situation which I'm rectifying now.
His real name is Erik Hart and he's from NE Indiana with his band being from Kalamazoo, Michigan. He's been pretty damn prolific since surfacing in 2015 with the Shipshewana Swimming demo. Musically he gets comparisons with the likes of early Wire, The Fall and Devo, it's lo fi garage influenced pop songs with minimal production in the vein of bands like Coneheads and Booji Boys. Scuffed up gems that prove you don't need a superstar dj to produce great music. Thoughts on the world around us filtered through an eccentric mind. Check out his music here : https://eriknervous.bandcamp.com/
This song is based upon the Ramones classic The KKK Took My Baby Away and was written after half of the cassette copies of his debut full length album that were sold through his Bandcamp page went missing in the post. It's called USPS Threw Your Tape Away...
You paid eight bucks for a tape we made
Clicked the "I'm not a robot" thing
But it never got there
It never got there
It never got there you say

Wait five to six business days
But then April turned into May
& it never got there
It never got there
It never got there you say

USPS threw your tape away
They threw it away
In Pittsburgh PA

USPS threw your tape away
They threw it away
In Pittsburgh PA

Who knows where your tape could be
They threw it away
They threw it away

Who knows where your tape could be
They threw it away
They threw it away

Ring-a ring-a ring-a the president
& tell him that he's a shithead
Ring-a ring-a ring-a the FBI
See if they burned it in a fire

You paid eight bucks for a tape we made
Clicked the "I'm not a robot" thing
But it never got there
It never got there
It never got there you say

Wait five to six business days
But then April turned into May
& it never got there
It never got there
It never got there you say

USPS threw your tape away
They threw it away
In Pittsburgh PA

USPS threw your tape away
They threw it away
In Pittsburgh PA

USPS threw your tape away
They threw it away
In Pittsburgh PA

USPS threw your tape away
They threw it away
In Pittsburgh PA