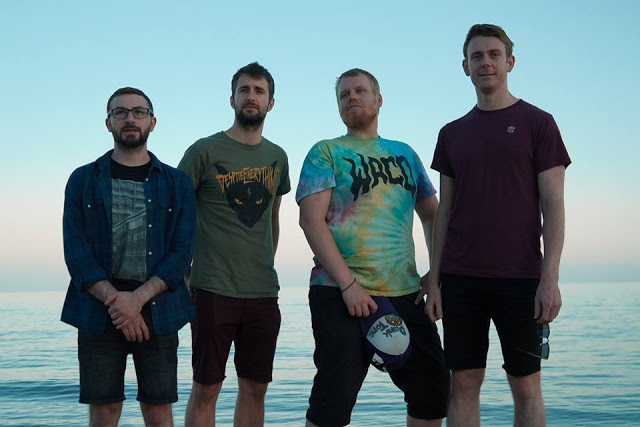 (photo : Luigi Sibona)
Back in May of last year I featured a Top 10 list chosen by Shout Louder webzine's Sarah Williams in which she spoke
about London based band Burnt Tapes...
"The DIY scene's answer to emotional behemoths like Iron Chic and Polar Bear Club, The Burnt Tapes have invented an irresistible take on sad punk.

Things Get Weird

is this band at their gritty, melodic best, showcasing their signature dual gruff vocals and an unmatched capacity for evocative, gut-wrenching lyrics. They're poised to explode this year: get on the bandwagon now."
Well hopefully you're all comfortably settled onboard that bandwagon because their time is nigh. February 22nd will see them unleash debut album Never Better. Featuring Panos Tessaromatis (vocals/guitar), Phil Georgoulopoulos (vocals/guitar), Tone Apostolopoulos (bass) and Jordan Hall (drums), it's the sound of a band at the top of their game. 10 modern day emotionally melodic classics, the hooks are many, the lyrics are thoughtful and a definite highlight. As vocalist/guitarist Phil says, "you can expect a lot more self-deprecation and regret." Burnt Tapes stand out in a genre usually associated with gravel voiced American bands. Whilst you wait for the album to drop check out their back catalogue (plus Never Better's first single) here :
https://burnttapes.bandcamp.com/
You can preorder the album from Wiretap Records
:
http://wiretaprecords.limitedrun.com/products/634942-burnt-tapes-never-better-lp or Lockjaw Records : https://lockjawrecords.co.uk/shop/the-burnt-tapes-never-better/
This is single number 2, heartfelt and anthemic, it's called Don't Make Me Play Bocelli....
My head weighs heavy, 'cause I keep on forgettingTo regret all the fucked up things I didHead down I'm silentYou're screaming but I can't make out the wordsAre we living the dream yet?Are we living at all?Filthy habits on repeatIn the dark room where we used to sleepAnd I'm not moving onYou're gonna miss me when I'm goneAnd you are the reason I'm so hard on myselfTell me what's the point of being anything?Still holding on to the pastStill restless, still full of doubtShould've let go of my grudges, been holding on way too tightBut I got older, I turned greyWho's gonna miss you when you're gone?Now I'm moving onWho's gonna miss you?You were the reason I'm so hard on myself