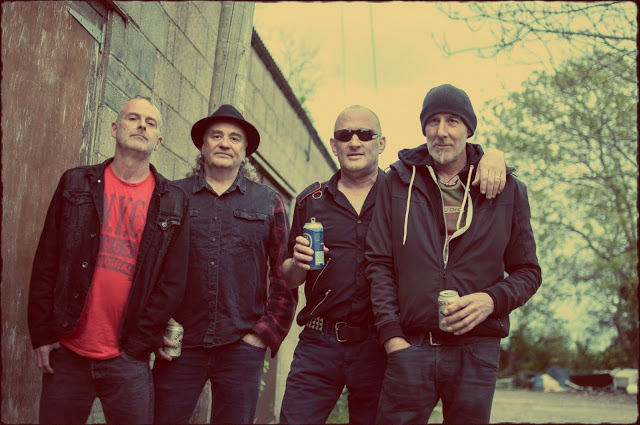 There's certain bands that when they release a new record, you're never quite sure what you're going to get. Bamboo Vipers are one of those. The
new record in question is the Behind Closed Doors ep and even though it seems to have been a while coming, a video has now surfaced and the release date of the ep is imminent.
From Hampshire and featuring a line up of Shaun Morris (vocals), Jon Webb (guitar), Ade Hood (drums), Count Click (bass) and Guy Wesley (harmonica), Bamboo Vipers' are an inventive rock n roll band who's sound incorporates elements of punk and alt rock and whatever else they can shoehorn in. Forming in 2013, they soon released debut album Dangling The Bait but it was only last year when I first came across them when I was blown away by their glam rocking stomper, Silver Boots. This was followed by the gothic tinged Haunted House ep (
">
) and then after the tragic death of guitarist Al Woodcock they honoured his memory with the release of double A sided single America/Don't Go Poking Around.
Their modus operandi is to remain in the public eye which means that they try to release a regular stream of eps. It shouldn't be too long after Behind Closed Doors is upon us before the next one surfaces (hopefully I'm not giving away any secrets by saying it's going to be titled The Dawn Of Civilisation and that the 4 tracks are winners).
The video you'll see below was filmed by Ged Wesley and is for a song about the diminutive protagonist that was the titular star of a 70's Hanna-Barbara kids cartoon. Starting almost in lounge music style, the song is a definite earworm that infiltrates your brain. It's not long before Guy's trademark harmonica kicks in, Shaun is singing about sleeping in a pencil case, falling down inkwells and travelling by paper plane. As the song changes gear we get a killer riff, horns and a brilliant contribution on back up vocals by Southampton based vocal coach Toni Anastasi (playing the part of Inch's niece Lori). All in all a wonderful song with a bit of a 70's psychedelic groove that you can dance to. Yep, inventive is the right word for them. Snap up the ep when you can https://www.facebook.com/BambooVipers/
This is Inch High Private Eye...