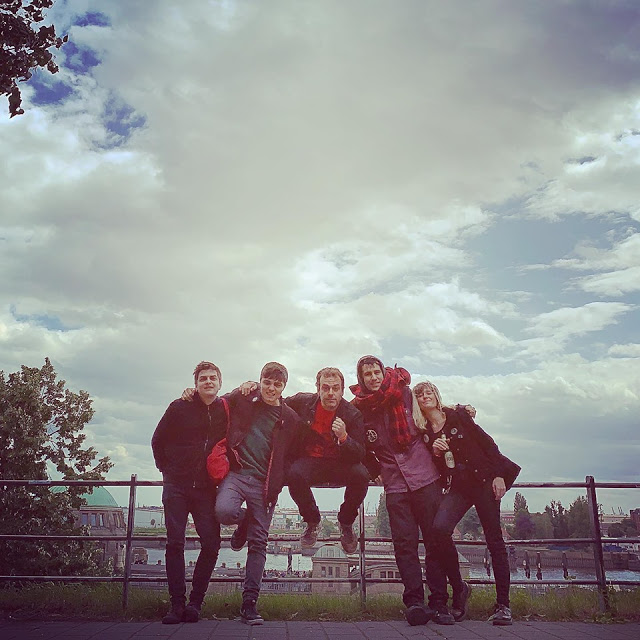 Not long ago on Facebook someone was asking people who their favourite Spanish band was and I didn't need to think twice before replying Accidente. As
it's been a while since they've released new material, the appearance of a number of reissues and the release of a compilation album on Malaysian label Hardcore Detention was all the excuse I needed to feature them again on here. A crowdfunding appeal was recently set up to help them out and fund their flight back to Madrid after they were deported from Indonesia whilst touring south east Asia. Because of this they've had to cancel their Philippines gigs and couldn't get to Manila to catch their paid for flight home. Fortunately their fans ensured they received enough to get home and their passports have now been returned.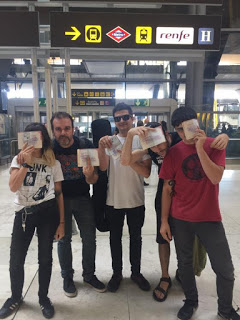 The compilation album that's just been released is titled ACCIDENTE '2014-2016' (Southeast Tour Special Edition) and it gathers together the tracks that featured on the band's 2nd and 3rd albums plus their split with Duelo. It's a 23 track delight from a band at the top of their game. Available on cd and digital download, you can find it here :
">
I could have chosen pretty much any of the songs to highlight, they're all great (one of them even ended up claiming the number 1 spot in my Top 50 songs of 2016 chart : https://justsomepunksongs.blogspot.com/2016/12/the-best-50-songs-of-2016.html), but today I'm going with the opening track from their Amistad y Rebelión album. This is ¿A cambio de qué? ....
Te veo y siento cosas que puedo comparar.
Y es que no importa nada si eres o no legal.
Que no somos distintas, que sufrimos igual,
vendidas y humilladas a cambio de un jornal.

Qué frio hace en la calle, quiero acercarme a ti,
decirte que lo dejes pero me miro a mí.
Qué infames ocho horas que engullen mi pasión.
Robando de los míos cariño y comprensión.

Quizá pague las cuentas, quizá sea ejemplar,
pero al final del día, ya no puedo soñar.
Caprichos que no llenan, necia necesidad,
por este decorado ¡no quiero trabajar!

Toda nuestra alegría, toda nuestra energía,
¿a cambio de qué?

---------------------------------------------------------
I see you and feel things / that I can easily compare / Because it makes no change whether you're legal or not / 'Cause we are not different / and we suffer the same / we are sold and humiliated in exchange for a wage / It`s cold on the street / and I want to get close to you / and tell you to quit / but I look at myself… / What infamous eight hours that gobble my passion! / stealing affection and understanding from my people! / And yes...I can pay the bills / I may be exemplary / but at the end of the day / I cannot dream anymore / unsatisfying cravings, foolish needs / I don't want to work to build this lie! / All our energy, all our joy… / in exchange for what?